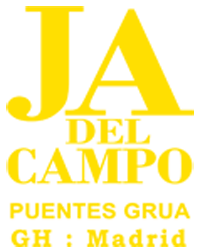 maintenance
Revisions and Adjustments

Under current legislation UNE 58144-1 and Royal Decree 1215/97. Required by law to have all lifting equipment with all necessary safety and security conditions.

Therefore, J.A. Del Campo, SL the company has created G.D.C. Lifting And Components, SL to manage all the paperwork and so devoted exclusively to give better service and advice. For any questions or concerns, please visit its web page www.gdcgruas.com or send it via the contact form or by calling our phones.
G.D.C Elevacion y Componentes, S.L.
C/ Federica Montseny Nº 12 3º 3
28850 Torrejon de Ardoz
Madrid (España)
Tel. 91.183.29.82
Fax. 91.183.29.81